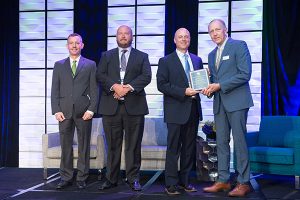 Vanguard Appraisals, Inc. would like to congratulate Linn County, Iowa for receiving the highly regarded Certificate of Excellence in Assessment Administration (CEAA). They have presented the award at the annual International Association of Assessing Officers (IAAO) Conference in Chicago.
IAAO recognizes governmental units and individuals involved with the assessment that integrate best practices in the workplace. This challenging and rigorous program is a self-conducted evaluation of specific, accepted, assessment administration and appraisal practices as defined in the IAAO publication Assessment Practices: Self-Evaluation Guide. The Assessor's office worked tirelessly documenting their assessment practices and use of technology. Vanguard is very proud to be the computer-assisted mass appraisal (CAMA) software utilized by the Linn County Assessor's office.
Jerry Witt, the Linn County Assessor, had this to say about receiving this special honor:

"The Linn County Assessor's Office recently achieved the Certificate of Excellence in Assessment Administration (CEAA) designation from IAAO. All aspects of our office were analyzed and documented for our submittal. We have had a strategic plan for our office throughout the last three years. This meant that many of our processes, practices, and technology that were needed to achieve the CEAA were already in place, including our appraisal software. We use Vanguard Appraisals, Inc CAMAvision® appraisal software and it was very prominent in one of the chapters. There were also many other areas of our submission that included screenshots and reports from the Vanguard software."
Less than 50 assessment offices across the nation have achieved the IAAO certificate of excellence in assessment administration. We congratulate Linn County on this outstanding achievement. We are very pleased that our quality CAMAvision® software was prominent in helping them achieve this distinction!