By: Nick Klein
In recent versions of Microsoft® Office products, you may notice the appearance of personalization features. Whether it's a person's name and picture appearing in the title bar or choosing a theme pattern and color, it gives the user a chance to tailor the program and make it their own. This is simply an extension of people personalizing the background image on their computer's desktop or adding photographs and plants to an office cubicle.
CAMAvision® has had similar features for many years – think the colored headings for reports. To this day, I can still recall when I first saw that Greene County, Iowa was cleverly using green for some of their over-the-counter reports.
The program itself allows a jurisdiction to select a database color theme (defaults: blue = Working, red = Certified, etc.), and it shows client contact information with a photo on the main screen. Not only do these settings personalize CAMAvision for a jurisdiction, but they serve a functional purpose too. The colors and images provide visual ques so a user "knows" to which dataset they're connecting: Working, Certified, or even Remote.


When Vanguard initially sets up a client, we lean toward the functional aspect of the personalization. The Working database has an image of the client's courthouse/administrative building and the Certified database has the default Vanguard logo. In past releases it's required a call to the tech support line to make a change.
With CAMAvision v21, we opened up access to the client information (address, phone, and email), making it easier for an admin to update this information. Along with this is the ability to update the jurisdiction photo.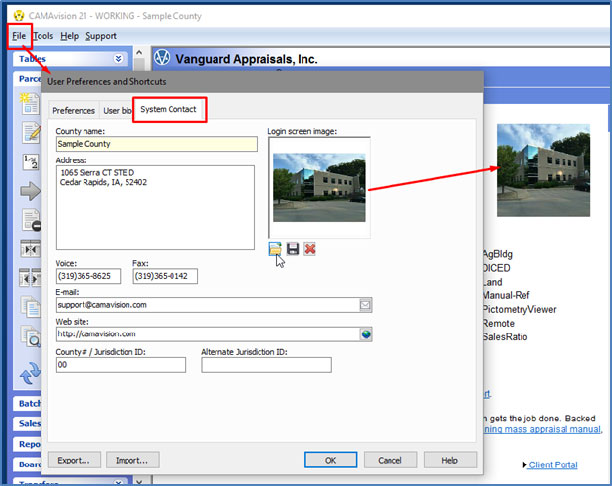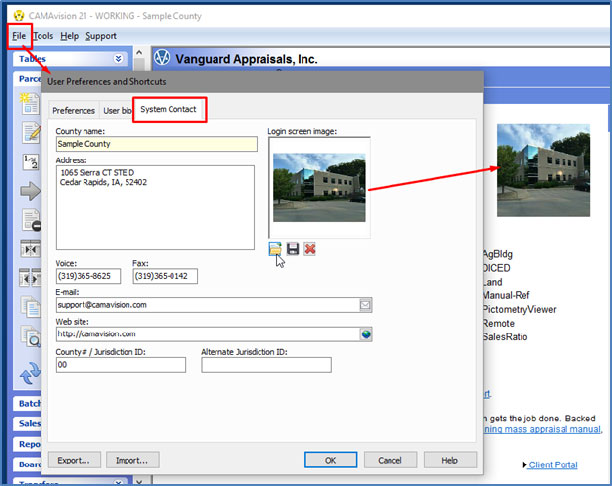 The initial image can be JPEG (JPG), Bitmap (BMP) or PNG. Internally the program makes it as small as reasonably possible. The image is stored as JPEG and resized to no more than 256 x256 pixels. A personalized image is cool but not at the expense of loading something big across a network!
I have found one user taking advantage of this feature in an unexpected way. In this jurisdiction, the CAMAvision administrator regularly swaps in new photos for the benefit of the entire staff. The images cycle between seasonal updates of the courthouse building, holiday themes, and even images with fun sayings or "memes." What a fun way to inject some levity into the office!